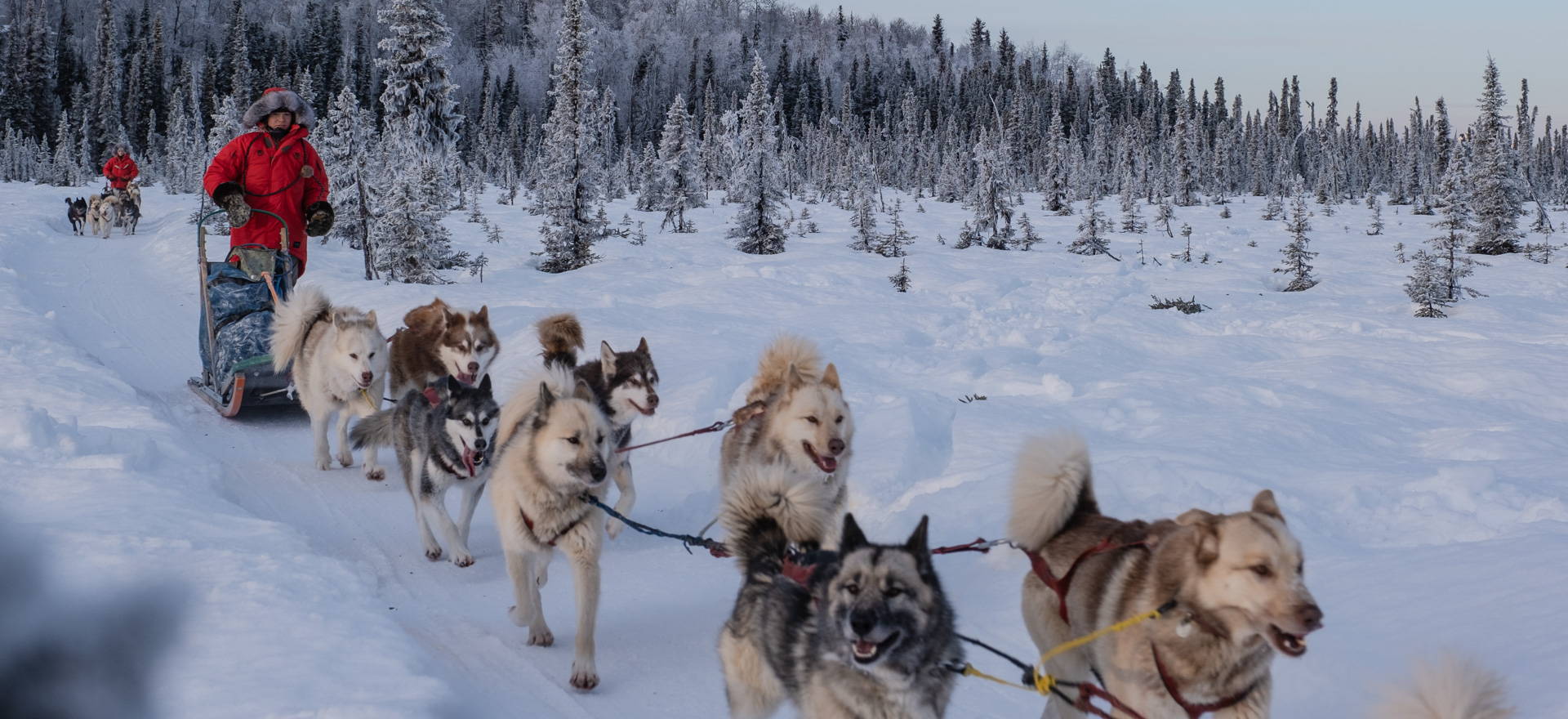 Filmmaker | Photographer | Dog musher
Jayme Dittmar grew up as a dog musher in Wisconsin. Her parents were (and still are) professional dog mushers, with her mom laying claim to the most international dog mushing titles of anyone in history. "We were on the road almost every weekend: traveling, training, going from place to place," Jayme recalls. "It was a very nomadic life. It was a very beautiful life, but it was a very competitive life." Jayme inherited that competitiveness, and would eventually retire as a professional dog musher at age 22 with an international title of her own.
Despite the family's impressive pedigree of competitive mushing success, hard choices lay ahead for her future. "Dog mushers aren't rich," Jayme explains. "In order to pay for my education in the US, I understood that I had to be athletically capable. I was already athletic growing up on a dog team, so I just transitioned that over into running track and field." Jayme ran the 800 meter, and the best school for middle distance was the University of Minnesota. With a full scholarship in tow, she spent five years at the U of M and considered running for Team USA after. It was time for something new, something more impactful. Jayme remembers thinking, "We're in a time of ecological unravelling. We're in a time of economic unravelling. To some extent we're in a time of social unravelling. So you start to notice that, and you question, 'What am I doing running around in circles?', and, 'How do I contribute?'" Her focus shifted to journalism, initially in the written form and eventually in a more visual form.
Jayme also spent time working as a media ranger in the National Park Service at Denali National Park, repurposing her previously competitive dog mushing skills to sojourn between native villages. She began to hear stories from those she visited of their lives and unmet needs. "I started to understand that these stories need to be told, and need to be told to a wider audience," Jayme reflects. "So from there I got involved with stories on how communities were being exploited, stories of colonization, and stories of conservation that needed to happen on the landscape within these indigeneous communities."
Her connection to the land and native peoples, born of a lifetime in dog mushing, was an ideal match for her journalistic aspirations. She's made films for the Department of the Interior, Teton Gravity Research, and PBS. Her recent film "Deer 139," jointly sponsored by National Geographic and the University of Wyoming, followed the titular mule deer through her annual migration across 85 miles of rivers, snow fields, and more ("She is the most badass deer of all the deer," Jayme says). For her upcoming film "Paving Tundra," she and her film crew packrafted 330 miles in the Koyukuk and Kobuk rivers of Alaska adjacent to the proposed Ambler Road, a mega-development project the state is attempting in order to open up the Brooks Range to copper pit mining. Jayme visited and interviewed the seven different indigeneous villages whose subsistence livelihood would be dismantled by the project.
For Jayme, filming, conservation, and advocacy are inseparably linked: "I can only film what I see on the ground, and a lot of times what is on the ground is actually very fragile. People love to assume that it's vast, and it's large, and it's tough. For me, as a storyteller, if I can bring any of that wildness, if I can bring any of that landscape, any of my feeling of how important this is to them, even at a fractal level, I've done my job correctly. Because these are the places that sustain us."
DOB:
6/7/89
HOMETOWN:
MERRILL, WISCONSIN
RESIDES:
WILLOW, AK
PROFESSION:
FILMMAKER | PHOTOGRAPHER | DOG MUSHER
DOB:
9/13/89
HOMETOWN:
APPLE VALLEY, CA
RESIDES:
COSTA MESA
PROFESSION:
PHOTOGRAPHYER | MARKETING SPECIALIST