Hands-On Adventuring
As rugged as your adventures and then some, the Guide Glove is built for durability, warmth, and capability. Lightweight PrimaLoft® insulation and wool-blend lining protect against cold, while pre-curved fingers with e-tips at the index and thumb retain dexterity and ease of access. Genuine French leather, knuckle guards, and suede nose wipes round out the repertoire of these adventure-ready gloves.
Composite Leather
Drum-dyed cowbelly leather palms provide lasting durability, tough protection, evenly absorb oils, and easily mold into the optimal shape. Conductive goat leather reinforces the thumb and index finger and enables touchscreen compatibility for both. Suede nose wipes make runny nose management hassle-free.
KEEP YOUR GLOVES EVERLASTING WITH OUR BEESWAX-BASED LEATHER BALM. MOISTURIZING, WEATHERPROOFING, AND SUSTAINABLE.
TO LEARN MORE ABOUT OUR DEDICATION TO BEES, CHECK OUT THE BEYOND POLLINATOR PROGRAM™.
Built for Warmth
PrimaLoft® Gold Insulation with Cross Core™ Technology fuses time-tested PrimaLoft Gold with Aerogel, a longtime aeronautical technology of NASA scientists, to deliver exceptional thermal protection at a light weight. Wool-blend lining rounds out the warmth retention and adds next-to-skin comfort.
Performance Features
Breathable, adjustable cuffs ensure a just-right fit with action in mind. Carabiner loops add convenience to gear management. Knuckle guards enhance durability, and pre-curved fingers optimize grip, functionality, and comfort.
Which Glove is Right for Me?
It's important to choose your glove according to what you need from it. Each glove provides unique advantages, but with each you'll receive genuine French cowbelly leather shell, conductive goat leather reinforcement, and touchscreen compatibility.* (*Only the Trek's inner glove has leather, but both layers offer touchscreen compatibility.)
TREK GLOVE SYSTEM

DUAL-LAYER ADAPTABILITY
The most adaptable option, the Trek Glove System combines a light and dextrous inner work glove with a protective outer insulating layer.
Light and Nimble Inner Glove
PrimaLoft Gold® Eco Insulated Outer Shell (with Silicon Grip Palm)
Moisture-Drain Mesh Stow Bag Holds Entire Glove System
GUIDE LITE GLOVE

BUILT FOR WORK
The Guide Lite is more lightweight, dextrous, and breathable than the Guide Glove. Ideal for a balance of protection and utility.
Breathable Softshell Backside
Lightweight, Articulated, Design
Brushed Tricot Lining
GUIDE GLOVE SPECS
Technical Features
Touchscreen compatible
Weather resistant
Adjustable cuff
Suede nose wipe
Knuckle guard
Carabiner loops
Fit & Design Details
Conductive goat leather reinforces thumb and index finger, increasing durability and enabling touchscreen compatibility for the index fingertip
Drum-dyed leather allows oils to penetrate evenly and easily molds to your preferred shape
Pre-curved fingers optimize grip, functionality, and comfort
Under-the-cuff wearability seals out the elements
Construction
Genuine French Tanneries Nouvelle Pechdo cowbelly leather palm shell
45% acrylic/22% polyester/19% wool/14% polyurethane liner
Neoprene adjustable wrist cuff
1.8 oz. PrimaLoft® Gold Insulation with Cross Core™ Technology infused with Aerogel provides excellent warmth-to-weight ratio
Weight (Size L): 8.8 oz.
Imported
Sustainability
Insulation is crafted from 90% post-consumer recycled content
Another quality product from Beyond
Hunting for a hiking glove after freezing my hands off while making it to the summit of Mt. Whitney. These guide gloves fit the bill. They are strong sturdy gloves that scream quality and attention to detail.
Well made golves
I have just received them recently so have not had many opportunities to use them but the high quality is obvious as it is with all Beyond products I've purchased.
Always cold
Only had them a week. Used 'Em right away. I bit the bullet and wanted some hardcore gloves. These seem to be it. I think under 0 degrees mittens make more sense. Curious to see how they will last. I got the bee balm too.
Mountain biking in cold weather
Any mountain bikers tested the guide gloves rated for zero degrees F.?
Lets try again...
Since my 1 star review didn't go through, lets try a 5 star...
These gloves don't work, I bought the pair rated for 0 degrees, but my hand freeze in 20-30 degrees. Look elsewhere...
Need Help? Contact us with any size or fit questions. 206-767-0307
Guide Glove
Sizing Information
| US Size | EU Size | In Measurement |
| --- | --- | --- |
| s | 7 | 7" (17.8 cm) |
| m | 8 | 8" (20 cm) |
| l | 9 | 9" (23 cm) |
| xl | 10 | 10" (25 cm) |
Body measurements in inches
Measure in inches around your hand with tape measure across your palm.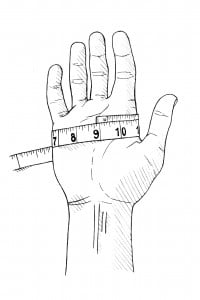 Fit Information
Standard True to Size | Active Layering
Product is Standard Fit, developed to accommodate up to two layers, for cross-environmental versatility
Expedition Oversized | Static Layering
Product is Expedition Fit, developed to accommodate up to four layers, for extensive use in extreme weather