Dual-Layer Adaptability
More than just your next pair of gloves, the Trek™ Glove System adapts to your needs with a modular two-layer approach. The first layer, a lean work glove, keeps your hands protected and nimble for working on a variety of tasks. The second layer, a removable outer shell, features PrimaLoft® Gold Insulation Eco for extra warmth when needed. And with both layers able to pack down into an included stow bag, it's easy to keep this adaptable system in your kit at all times for whatever may come your way.
Inner Work Glove
The inner work glove partners dextrous elastic construction with the rugged toughness of a cowbelly leather palm and knuckle guard. Conductive goat leather gives touchscreen compatibility to the index finger and thumb without sacrificing durability, and a synthetic suede nose wipe on the back of the thumb offers cold-weather convenience.
KEEP YOUR GLOVES EVERLASTING WITH OUR BEESWAX-BASED LEATHER BALM. MOISTURIZING, WEATHERPROOFING, AND SUSTAINABLE.
TO LEARN MORE ABOUT OUR DEDICATION TO BEES, CHECK OUT THE BEYOND POLLINATOR PROGRAM™.
Insulating Outer Shell
PrimaLoft® Gold Insulation Eco with Grip Control adds lightweight, breathable, and weather-resistant warmth to the slip-on outer shell. The silicone gripper palms provide a reliable grip through the double-layer wear, and touchscreen tips at the index finger and thumb ensure easy phone access.
Stow Bag
The included cinchable stow bag allows both layers to be stuffed down for space-saving storage when not in use. Mesh construction allows accumulated moisture to drain, and a sewn-on name tag makes tracking your gloves that much easier.
Which Glove is Right for Me?
It's important to choose your glove according to what you need from it. Each glove provides unique advantages, but with each you'll receive genuine French cowbelly leather shell, conductive goat leather reinforcement, and touchscreen compatibility.* (*Only the Trek's inner glove has leather, but both layers offer touchscreen compatibility.)
TREK GLOVE SYSTEM

DUAL-LAYER ADAPTABILITY
The most adaptable option, the Trek Glove System combines a light and dextrous inner work glove with a protective outer insulating layer.
Light and Nimble Inner Glove
PrimaLoft Gold® Eco Insulated Outer Shell (with Silicon Grip Palm)
Moisture-Drain Mesh Stow Bag Holds Entire Glove System
GUIDE LITE GLOVE

BUILT FOR WORK
The Guide Lite is more lightweight, dextrous, and breathable than the Guide Glove. Ideal for a balance of protection and utility.
Breathable Softshell Backside
Lightweight, Articulated, Design
Brushed Tricot Lining
TREK SYSTEM GLOVE SPECS
Technical Features
Touchscreen compatible
Lightweight
Breathable
Wind resistant
Water resistant
Nose wipe
Knuckle guard
Carabiner loops
Highly compressible
Stow sack
Fit & Design Details
Removable insulating outer shell adds extra warmth as needed
Included stow sack allows the glove, outer shell, or both to be stuffed away when not in use
Touchscreen compatibility for the index finger and thumb of both the inner work glove and outer shell
Silicone gripper palms increase grip capability for outer shell
Sustainability
Insulation is crafted from 90% post-consumer recycled content and is completely biodegradable
Construction
Inner Work Glove:

94% polyester/6% elastane shell
Genuine French Tanneries Nouvelle Pechdo cowbelly leather palm shell and knuckle guard overlay
Conductive goat leather on palm side of index finger and thumb
Synthetic suede nose wipe on thumb backside
Neoprene wrist cuff

Insulating Shell:

Polyester shell
PrimaLoft® Gold Insulation Eco with Grip Control is lightweight, low-bulk, breathable, and water-repellent
Silicone gripper palms

Weight (Size L): 4.8 oz.
Imported
Amazingly handy and quite warm glove!
I recently purchased the Trek Gloves to use here in New England during our hikes in the woods with our dog. They' really very warm - even warmer than I expected! The nested work glove inside the insulated outer glove is very handy for doing dexterous things (like cleaning up after the dog) or using hand tools. I also like the fact that the inner glove works with a touch screen so I didn't have to take off my gloves to take a picture with my phone! All in all a versatile warm glove! I highly recommend the Trek Gloves!
Versatile and Capable Glove System
I purchased this glove set as part of an ongoing process of finding the best solution for photography in bad conditions. Photographers are notoriously picky and, as with evaluating photography bags, there's likely no perfect product. But this system comes close, with some caveats.
The work glove components are really solid for handling a camera. I am able to use most of the dials and buttons easily and accurately. The leather surfaces provide a good grip, unlike the normal liner gloves that fill the equivalent role in some other multi-part systems. I disable the touch function on my cameras, but the gloves should prove handy to those who don't; they certainly are helpful when checking my phone. (I didn't initially grasp that there was capacitive function in the shell gloves too, which is a real bonus.) The work gloves are also fantastic for scrambling up scree slopes or over boulders, or fighting through bramble thickets, and the knuckle guards are more than just cosmetic. The main shortcoming here is the lack of weather-resistance: the gloves get wet through quickly, and are only partly effective in stopping wind. In lower temperatures this can become uncomfortable, and the leather leaches dye into my hands when worn wet for very long.
The shell/puffer gloves are quite comfortable and warm. They are also seemingly waterproof. The material is more rugged than it initially appears (but not as tough as the work gloves). The pull loops make hauling them on over the work gloves significantly easier than in some other systems. However, the textured palm only goes so far, and handling expensive electronics feels a little iffy. Another downside is that the clasp used to connect the pair together is way too fiddly to use in cold weather. It's a little frustrating that using the system requires you to remove the outer gloves frequently (unlike say, a hinged mitten system) but makes stowing them an additional task. Something as simple as a loop of elastic to twist around the wrist could allow the user to pop the gloves off rapidly while keeping them attached and close by.
The temperature rating is an interesting question. My guess is that the stated lower limit refers to both gloves worn in a static situation. The work gloves alone feel comfortable for me to wear indefinitely without the shells in temps down to the mid 40s (F), in dry-ish conditions. Assuming a decent amount of activity, the addition of the shells allows toasty - even sweaty - wear into the low 20s. I've found I can still take the shells off for long periods of time in the 40s-20s range if I'm keeping busy and the air is reasonably still. Once in the teens + windy conditions, I start feeling a bit of a chill in the fingertips and try to avoid removing the shells for very long. At single digits with wind, the gloves still function at an "emergency" level (minimal to no shell removal). Once in negative digits + windchill, they start becoming painful and I start losing dexterity after 20-30 minutes. This is honestly an astounding range for a product that could easily have been hampered by compromises. Although it's clunky to completely remove part of the system, the payoff is maximized strengths for both components, instead of one glove that can't fully meet either temperature or handling challenges. As a Minnesota resident, I've tried a lot of gloves, and these are actually among the warmest I own!
Overall, I would rate the work gloves as arguably essential for people who need to do complex/dexterous tasks in moderate conditions. Similarly, the shells are great for people whose workflow in very cold temps allows them to wait and then do those tasks in rare, short bursts. My one-star reduction relates to the design decisions that make it more difficult to stay warm/dry AND shoot/work at will. Otherwise, great system. Worth considering at full price, and a must-buy when on sale.
Solid layering system for hands
Not sure if the temperature rating is accurate. I've used the inner gloves with trekking poles into the 20's and stayed nice and warm. I throw a pair of polyester fingerless gloves (those cheap stretchy thin ones) under them while at camp in case I need to use my fingers. It's now a triple layer system. I would buy again.
Versatile gloves
Great option that I keep in my truck during fall and winter months. Quality gloves. Highly recommend
Incredibly well made glove with one surprising flaw.
The trek system has it all - comfortable work glove with high grade leather, touch screen capability, and a "snivel pad" on the thumb. Top notch work and thought process.
The outer layer, a "puffy" jacket that is made for simple insulation fulfills its duties nicely.
I was quite taken with the glove system until I discovered an interesting flaw - the touchscreen capability of the work gloves immediately fades after one day of work.
Brand new, they're incredibly responsive and can do anything on your touch screen device that your fingers can. After a day of work, the pads have degraded so badly that you have to figure out some sort of weird angle of your fingertip or nail, maybe, that might get a touchscreen device to recognize your commands.
In an otherwise top notch, superlative glove, it's a glaring issue especially when lower quality items - like Line of Fire gloves - can maintain their touchscreen capability despite constant work.
And if I'm wearing these gloves, it's either because I'm out and it's cold, I'm out and I don't want my fingers beaten up or I'm simply working, and taking them off to use my phone defeats one of their major selling points.
Regardless, this is the first time I've had an issue with any gear from this company, so I won't hold it against them. I'm just surprised, and, well, disappointed.
Need Help? Contact us with any size or fit questions. 206-767-0307
Trek Glove System
Sizing Information
| US Size | EU Size | In Measurement |
| --- | --- | --- |
| s | 7 | 7" (17.8 cm) |
| m | 8 | 8" (20 cm) |
| l | 9 | 9" (23 cm) |
| xl | 10 | 10" (25 cm) |
Body measurements in inches
Measure in inches around your hand with tape measure across your palm.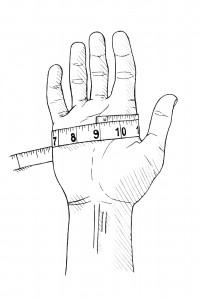 Fit Information
Standard True to Size | Active Layering
Product is Standard Fit, developed to accommodate up to two layers, for cross-environmental versatility
Expedition Oversized | Static Layering
Product is Expedition Fit, developed to accommodate up to four layers, for extensive use in extreme weather