Your access pass to the world's wildest places: time and again we've written these words, affirming our role as outfitters. The outdoors offers unique benefits to your physical, mental, and emotional well-being that simply can't be duplicated, and we're proud to be a part of connecting you with them. But the wilds themselves face countless and ever-growing hardships, and it would be irresponsible to enjoy the perks without giving back. As wild places support us, so must we support them. BEYOND is dedicated to global responsibility, and we're focused on three main planks: pollination, sustainable production, and advocacy. Here are the problems as we see them, and our strategies for each.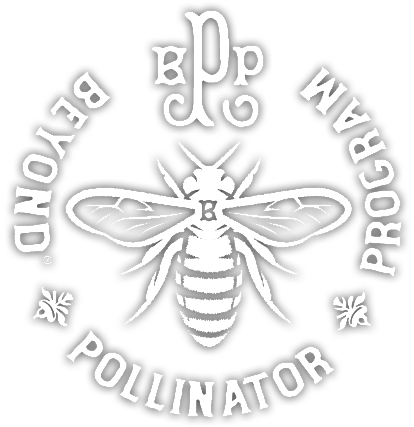 This is our flagship initiative. The world's pollinators are dwindling in number and diversity. Pollinators are critical for supporting ecological health, biodiversity in nature, and the food we eat. Beyond is committed to supporting the wild's unsung heroes, especially the most prolific of all pollinators, the bee.
Biodiversity
Approximately 80% of all known green plants alive today are flowering plants, and roughly 75%-95% of those rely upon help from pollinators—birds, bats, butterflies, moths, flies, beetles, wasps, small mammals, and bees—to not go extinct. And that's just the direct impact: all those flowering plants help to clean the air, purify water, stabilize soils, and feed countless other species. Without a strong and diverse group of pollinators, we wouldn't have the world's wild places.
Food Supply
Pollination is responsible for as many as 1 out of every 3 bites you take. Pollinators have been estimated as adding $217 billion to the global economy, and more than half of the earth's dietary fats and oils (canola oil, sunflower oil, etc.). The world's nutrition supply would be catastrophically impacted by the loss of pollinators.
Bees
There are some 200,000 different species of pollinator, but only about 1,000 are vertebrates (birds, bats, small mammals). The rest are all invertebrates and primarily insects, and among these no one champions pollination quite as prodigiously as the bee. In the United States there are over 4,000 species of native bees, meaning those particular bees alone provide four times the pollination work of all the world's pollinating vertebrates combined.
Bees Under Threat
Bees—the top pollinator—face many unique, growing threats. Pesticides on crops, habitat loss, and parasite invasions can all decimate a hive. Leasing colonies out to specific crops deprives the bees of biodiversity in their foraging and disrupts wild bees native to the area. And some of it is even downright mysterious; Colony Collapse Disorder (CCD) is an as-yet unexplained phenomena wherein a hive is discovered with no adult bees and no dead bee bodies, but a still-living queen.
Education and Engagement
The diminishment of pollinators is not a small problem, so we're coming at it from several directions. We're teaming up with the Seola Bee Company, the Puget Sound Beekeepers Association, and the American Beekeeping Federation to empower their initiatives and to learn from their expertise. We're supporting the bee population and educating visitors to the Acropolis with our recently installed 60,000+ observation beehive. We've given an exclusive Twitter account to our own Queen Beeatrice, which posts new fun facts every day about the world's most famous pollinators. And we're making it easier than ever for you to join us in supporting the bees with hang tags and order inserts crafted from lavender/poppy seed paper (a couple of the bees' favorite flowers). They're included in every order, and all you need to do is pop them into the soil and water them.

Sustainable Production Practices

The world's wild places continually suffer from damaging, wasteful practices in how things are produced and consumed. Irresponsible production and the mindset of a throw-away society make it ever more difficult to sustain the great outdoors.
This may sound familiar to you: a product is manufactured with dangerous, polluting methods and unsustainable sourcing, it's shipped to you in packaging that can't be recycled, and then once you have it the too-short countdown begins until it must be thrown away. Every step of this all-to-common sequence needlessly damages ecosystems and contributes waste. It can be a challenge finding out where your purchase came from and whether or not you'll be sending it to a landfill in the near future.
Production
As expeditionary outfitters, we're firmly committed to accountability at every checkpoint, beginning with production and sustainable materials. We're upgrading to bluesign®-certified textiles, which are verified for ecological safety at every step of manufacturing. We're working hard to ensure our fabrics receive STANDARD 100 certification by OEKO-TEX®, meaning they've been confirmed as free from harmful levels of more than 100 substances known to be a risk to human health. And we're switching to Primaloft BIO™ insulation, the world's first biodegradable, 100% recycled synthetic insulation.
Packaging
No part of your shipment should end up contributing to landfills, so we've made sure that waste reduction and ecological responsibility are an intrinsic part of your out-of-the-box experience. All of the packaging in your BEYOND orders are compostable, recyclable and/or crafted from post-consumer content. Please join us in disposing responsibly.
Everlasting Products
It's all too easy to simply throw something away once wear begins to show, and some products even have planned obsolescence. We're running in the exact opposite direction with gear treated to help it last as long as possible. We're also introducing adventure-purposed gloves crafted from quality leather and maintained with a beeswax-based balm. By moving toward everlasting products, we're working to break the cycle of disposable gear and needless waste.

Not everyone is as well-equipped to defend or stand up for themselves. Beyond is proud to partner with proven organizations committed to the help, preservation, and betterment of those who need it.
Protecting the Endangered - ESPA®
Biodiversity is a vital component to sustaining the world's wild places; the loss of a species is devastating to the intricate balance of an ecosystem. Beyond is partnered with the Endangered Species Protection Agency (ESPA) in defending vulnerable species and helping them flourish anew.
Supporting our Veterans - Seattle Stand Down
Transition from service to civilian life can be filled with challenges, and so we're proud to join forces with the Seattle Stand Down. Put on by Veterans and 100% volunteer run, the Seattle Stand Down works to prevent and eliminate homelessness among Veterans and their families, engaging these at-risk communities in meaningful and therapeutic activities with other Veterans to "give them a hand up, not a hand out" through peer support.
Safeguarding Education - Special Operations Warrior Foundation
Every child should receive an education. Beyond joins the Special Operations Warrior Foundation (SOWF) in fundraising for the children of fallen or severely combat-wounded and hospitalized special operators, ensuring our nation's youth receive the opportunities they deserve.
Empowering Diversity - Camber Outdoors
A lack of inclusivity and diversity in the workplace is the detriment of everyone; opportunities must be made broadly available, and new perspectives are to be valued as the important resource they are. We're partnered with Camber Outdoors in supporting workplace inclusion, equity, and diversity in the active-outdoor industries.
Defying Hate - Seattle Safe Space Program
We do not tolerate hate, abuse, or violence, which is why we're proud to be enrolled in the Seattle Safe Space program. To any members of the LGBTQIA+ community: Beyond's door is always to open to you if your safety is at risk.