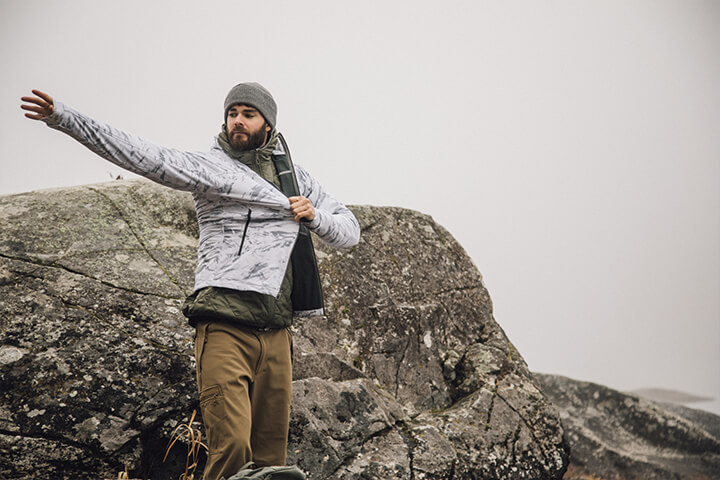 The terms "softshell" and "hardshell" are used often when it comes to expeditionary outerwear, but what do those terms actually mean? Does it make a difference? Is one jacket or pant as good as another?
At their core, softshell and hardshell speak to one of the big fundamentals of adventuring apparel: equip for what you'll be facing. A thin jogging layer will leave you frozen on a snowy mountainside, and a heavy winter parka will make you bulky and sweaty in temperate conditions. A softshell prioritizes higher mobility and breathability, while a hardshell focuses on protection.
For our purposes, we've broken this down into three groups: Ultralightweight Softshells, Lightweight Softshells, and Durable Hardshells.
---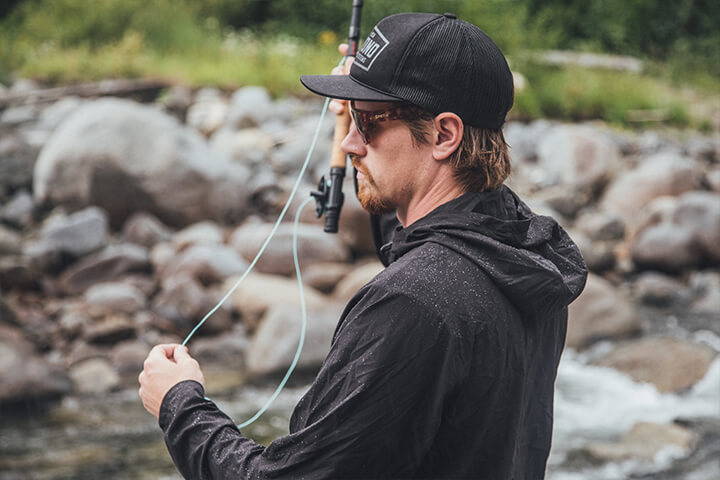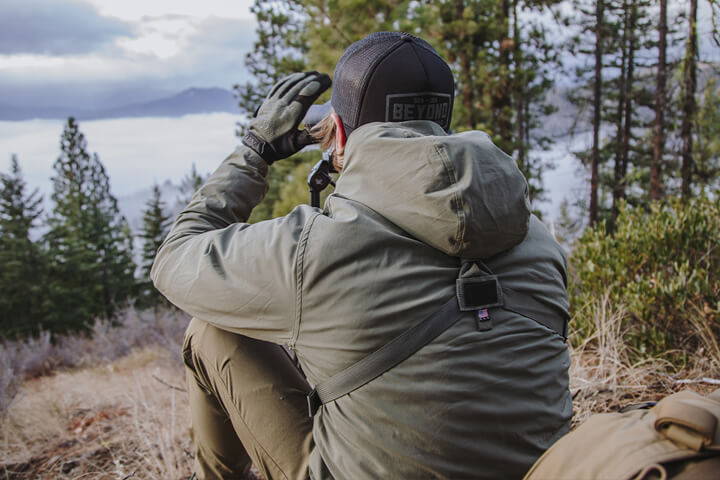 Ultralightweight Softshell
Ultralightweight softshells prize packability and mobility. The minimalist construction of this outerwear provides the basis for multiple performance features, including reducing the weight you carry, ensuring a full range of motion unfettered by bulk, and allowing for easy stowage or retrieval from your pack as conditions change. Some of our ultralightweight softshell jackets, such as the Men's Ventum Ultralight K4 Jacket, can be stuffed into a special built-in pouch for even greater ergonomic convenience. 4-way stretch works with the featherweight materials and articulated designs to further improve ease of movement. Wind resistance, a DWR finish, and fast-drying performance fueled by active use combine to help manage light precipitation and chilling breezes.
If you're planning active use in light weather, an ultralightweight shell is an ideal pick; think a fast-paced hike or a jog through breezy, misty conditions. The wind-blocking protection will keep you warmer than you might think by trapping heat built up from steady movement. If you find yourself getting warmer than you'd like, simply ventilate some or all of the shell's zippered closures.
If you're looking for readily available backup protection for unexpectedly changing conditions, an ultralightweight shell is the way to go. The exceptionally low weight and purpose-built packability make these layers easy to stuff away in your car or bag until needed. Shells with self-stowing features are particularly useful in this way; with nothing left sticking out to snag or tangle, storage is even more fuss-free. The next time rain clouds try to catch you off guard, you'll be glad to have featherweight weather protection ready at a moment's notice.
---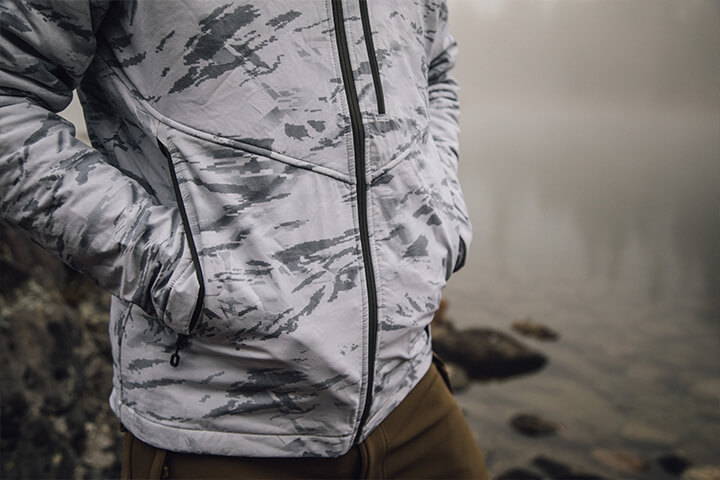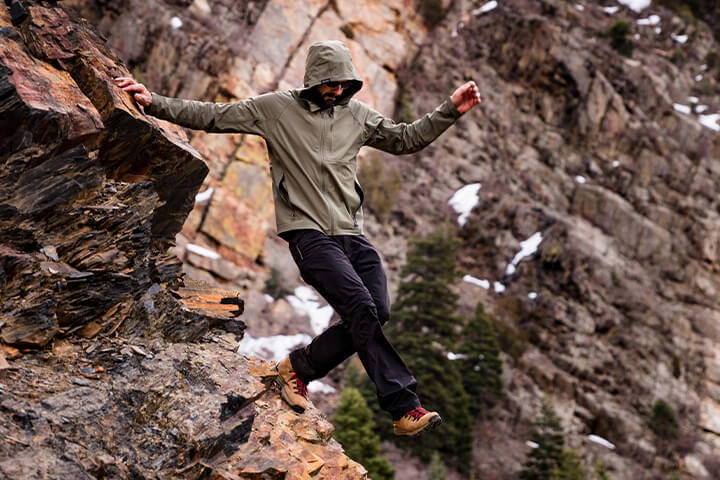 Lightweight softshells are workhorse layers, built for active use across multiple seasons. These layers provide solid weather protection, but first and foremost they're purpose-built to get you dry. Breathable, fast-drying materials lift perspiration and precipitation up and out, where they bead up on the DWR finish for easy evaporation. Durable construction protects these layers from wear and tear while shielding you from scrapes and scratches, and 4-way stretch helps retain your range of motion. The comparatively heavier protection makes lightweight softshells an ideal choice for transitioning from season to season and for use in a variety of climates.
Not sure what the best shell for a particular season might be? Go with a lightweight softshell. These are the do-it-all layers, and will look after you in most circumstances. Individual lightweight softshells will offer different strengths and advantages, and you should always pick out whichever layer best serves your needs. That said, each one of them is built to handle moderate to challenging weather, to get you dry, and to facilitate your system's moisture transport during active use.
Looking for a balance of weather protection and active use? The lightweight softshell has your back. Offering heftier protection than an ultralightweight shell while retaining mobility and breathability, the lightweight shell is your go-to when you expect to be on the move through consistently inconvenient weather. If you're planning on a day of outdoor work or a good distance covered through wild places and the conditions look unfriendly, reach for a lightweight softshell.
---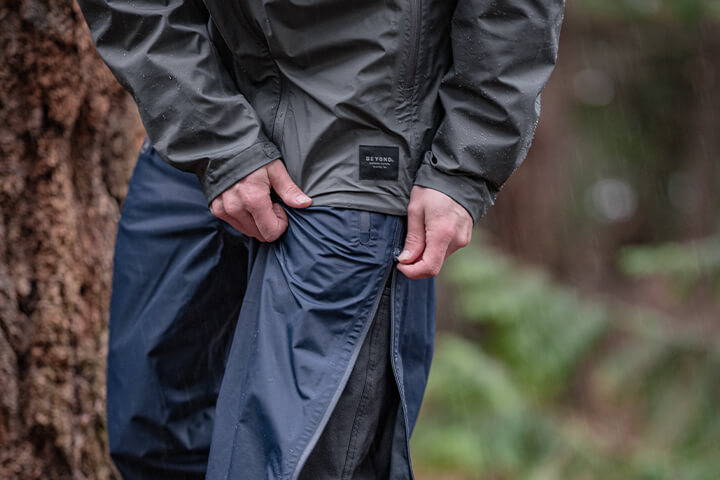 Whereas ultralightweight and lightweight softshells are designed for getting you back to dry through active use, durable hardshells are focused on static use cases and keeping you from getting wet in the first place. Hardshells are suits of armor when it comes to weather, completely waterproof down to the zippers and seams. A DWR finish is added to help rain bead up and roll away more easily. Robust durability helps these layers endure years of abuse.
If you're expecting a downpour, choose a durable hardshell. These protection-first layers are built to keep you dry, first and foremost. Unlike the ultralightweight and lightweight softshells, durable hardshells are generally not designed with packability or consistently active use as the primary consideration. They are all about preventing precipitation from reaching you. Know your destination, activity, and conditions before suiting up with a durable hardshell.