Built for Work
The lighter, more breathable alternative to the Guide Glove, the Guide Lite Glove balances tough protection against nimble range of motion. Articulated leather palms and pre-curved fingers optimize grip, shape, and functionality. Breathable softshell backsides and adjustable wrist guards ensure full flexibility.
Dual Leather
Articulated French cowbelly leather palms combine lasting durability with dextrous motion. Conductive goat leather reinforces the thumb and index finger and enables touchscreen compatibility at the tip of the index.
KEEP YOUR GLOVES EVERLASTING WITH OUR BEESWAX-BASED LEATHER BALM. MOISTURIZING, WEATHERPROOFING, AND SUSTAINABLE.
TO LEARN MORE ABOUT OUR DEDICATION TO BEES, CHECK OUT THE BEYOND POLLINATOR PROGRAM™.
Breathable & Nimble
Softshell backsides and adjustable wrist cuffs provide ease of motion and breathability, ensuring a snug fit and finesse throughout adventures and day-to-day chores alike.
Comfort & Capability
Brushed tricot lining blends long-lasting sturdiness with a smooth next-to-skin feel. Pre-curved fingers let you get to work with minimal breaking in and maximize your grip.
Which Glove is Right for Me?
It's important to choose your glove according to what you need from it. Each glove provides unique advantages, but with each you'll receive genuine French cowbelly leather shell, conductive goat leather reinforcement, and touchscreen compatibility.* (*Only the Trek's inner glove has leather, but both layers offer touchscreen compatibility.)
TREK GLOVE SYSTEM

DUAL-LAYER ADAPTABILITY
The most adaptable option, the Trek Glove System combines a light and dextrous inner work glove with a protective outer insulating layer.
Light and Nimble Inner Glove
PrimaLoft Gold® Eco Insulated Outer Shell (with Silicon Grip Palm)
Moisture-Drain Mesh Stow Bag Holds Entire Glove System
GUIDE LITE GLOVE

BUILT FOR WORK
The Guide Lite is more lightweight, dextrous, and breathable than the Guide Glove. Ideal for a balance of protection and utility.
Breathable Softshell Backside
Lightweight, Articulated, Design
Brushed Tricot Lining
GUIDE GLOVE SPECS
Technical Features
Touchscreen compatible
Weather resistant
Adjustable cuff
Breathable
Fit & Design Details
Conductive goat leather reinforces thumb and index finger, increasing durability and enabling touch screen compatibility
Articulated leather palm and pre-curved fingers optimize grip, functionality, comfort
Under-the-cuff wearability seals out the elements
Construction
Genuine French Tanneries Nouvelle Pechdo cowbelly leather palm shell
Breathable stretch woven 50% nylon/43% polyester/7% elastane back shell
Brushed polyester tricot liner
Neoprene adjustable wrist cuff
Weight (Size L): 4 oz.
Imported
Great Gloves
Whenever it is under 55 out I put these glove on. I ordered 2 pairs. XL and L
The LX is great for when I'm walking the dog and I have to pull off the glove to bag something up. For the L it's a great fitting glove for working. Hope this helps.
The BEST!
I absolutely love gloves! I had my first pair for years and drove off from pumping gas and left them on top the pump so I HAD t order a new pair. I also ordered the warmer guide gloves for colder weather and as an avid outdoorsman the have instantly become my favorite.
Guide lite gloves
Awesome gloves, perfect fit . I've only been able to wear them once out in the woods, used them with my brush axe . Great grip and was able to grab some sticker bushes and not feel any discomfort from thorns. Highly recommend these gloves.
All of beyond clothing is better then crye
Really nice gloves
I'm an XL, they are a little tight getting through the wrist, but once on they're great fitting. Supple, works well with touch screens and snug enough fit to maintain good dexterity for relatively fine motor skill tasks. Great warmth if you are active in a cold environment, otherwise your hands will get chilly under 30 if you are static. Will pick up a pair of the heavy for the colder stuff.
Need Help? Contact us with any size or fit questions. 206-767-0307
Guide Lite Glove
Sizing Information
| US Size | EU Size | In Measurement |
| --- | --- | --- |
| s | 7 | 7" (17.8 cm) |
| m | 8 | 8" (20 cm) |
| l | 9 | 9" (23 cm) |
| xl | 10 | 10" (25 cm) |
Body measurements in inches
Measure in inches around your hand with tape measure across your palm.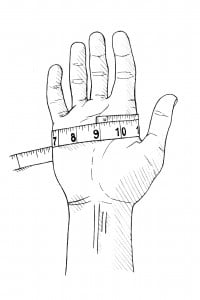 Fit Information
Standard True to Size | Active Layering
Product is Standard Fit, developed to accommodate up to two layers, for cross-environmental versatility
Expedition Oversized | Static Layering
Product is Expedition Fit, developed to accommodate up to four layers, for extensive use in extreme weather